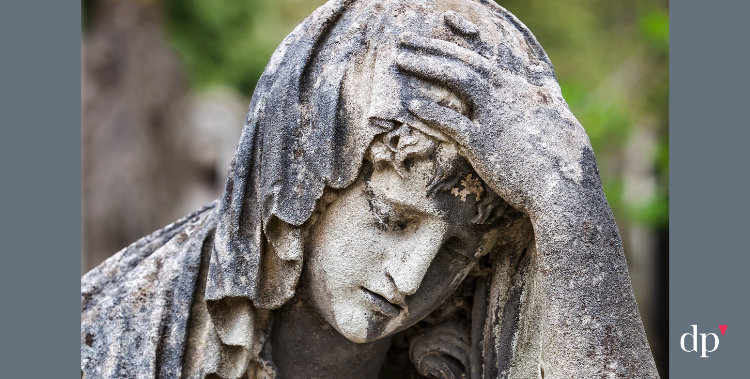 Going Gently Through the Grief of Divorce
My heart felt like an empty hole in my chest. I was in so much pain I could hardly breathe—was it a heart attack? Kind of, it was a broken heart. I was in tears on and off for days as grief washed over me in waves. Was I fresh out of my divorce?  No, it was 18 months later when my Ex told me he had met the love of his life.
I was grieving the end of my marriage, again. How could this be? At the beginning of my divorce, I was focused on being strong for the kids, setting up a new household and making a living. I was very sad and emotional but I didn't fully process my grief. This new milestone was an opportunity for me to finally come to terms with the ending of my marriage, and there was no holding back the tide this time.
No matter who leaves whom, or if the decision is mutual, divorce is a breathtaking ending with long-term reverberations. And, as I found out firsthand, grief is not a one-time event, it's a process. There are several points that can trigger grief long after you think you're over it. Unprocessed grief can resurface the day the divorce is final, when one of you starts dating or the first holiday on your own. No matter when or how it's triggered, it's an opportunity to heal your wounds and fully move on with your life.
 Letting Go of the Old Dream
Regardless of how contentious your marriage may have been, on some level, there is comfort in the status quo, in having a partner even if the relationship is difficult.  Not only must you let go of the companionship of your ex-spouse, but you also let go of your identity as part of a couple.
On a more subtle level, you must also leave behind your hopes and dreams for that marriage. Despite the statistics, chances are you thought your marriage would be one of the ones that went the distance. You're not only releasing your spouse and your identity as a "husband" or "wife," you are coming to terms with the death of that dream.
Good Grief
We cannot and should not bypass grief. A natural response to loss, it has an important place in the healing process. Until you really let yourself grieve the ending of your marriage, you may find it difficult to truly move on because part of you remains tied to the past. While you can't circumvent it, there are things you can do to help you move through it with grace.
Be gentle with yourself as you begin to accept the finality of the end of your marriage. Acknowledge and express the full range of feelings you experience as a result of the loss.
Have a good cry whenever you need to. It not only clears out stuck energy, tears are detoxifying.
Take care of your body with plenty of sleep, regular exercise and eating healthy.
Take it easy on yourself—expect that you may not be as efficient or "with it" as you are normally. While you probably still need to go to work, don't make this the time that you volunteer for extra duties.
Actively and regularly nurture yourself with activities that you find pleasurable like massage, walking in nature or going to a concert.
Find someone to talk to—a good friend or family member you can trust to be supportive or a coach or therapist.
Be with the grief, acknowledge it, recognize it and know that you will heal and move on.
Deb Purdy, is a transformation coach, workshop leader and author of
Something Gained: 7 Shifts to Be Stronger, Smarter & Happier After Divorce.
Visit www.DebPurdy.com for more information.
Join the conversation on social media:
Instagram: @lovedebpurdy
Twitter: @lovedebpurdy
Facebook: debpurdyofficial