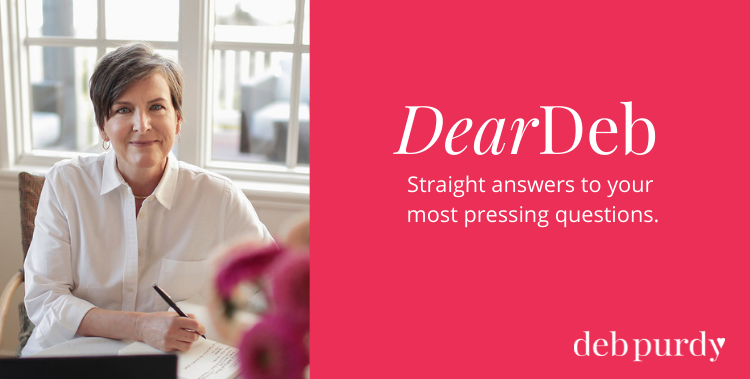 Why aren't my adult children angrier at their father for cheating and leaving?
Dear Deb:
Why aren't my adult children angrier at their father for cheating and leaving after 36 years of marriage? They were at first but now they are talking to him again and they've even met his girlfriend. I want my Ex to have consequences for his actions. I feel betrayed all over again.

Dear Betrayed:
After 36 years, you expected that you would be spending the rest of your life with this person. Your whole way of life has been upended and it was out of your control. It's no wonder you're consumed with anger. There's fresh pain in having to stand by and watch while your children begin to accept the changes including the new girlfriend.

While that's a tough pill to swallow, it's important to distinguish between the actions of your Ex and the actions of your children in terms of what constitutes a betrayal. Your Ex betrayed you on a very deep level with his cheating—no question. But, by calling your children's decision to have a relationship with their father a betrayal, you are unfairly casting them as bad actors in your story.

It's understandable that you would want your Ex, who broke up your family, to suffer the consequence of losing that family. Perhaps you feel powerless to hurt him as much as he's hurt you and you want them to do it for you. Unfortunately, expecting your children to be your agents in punishing their father will only end up hurting you more.

While they may well be disappointed in him for his past actions, he's still their father and it's not unreasonable of them to repair their relationship with him. Pressure from you to stay mad at him, even if it's subtle, will end up eroding your relationship with them, not his. By clinging firmly to your sense of betrayal, you cross the line into betraying yourself by keeping yourself stuck in long-term bitterness.

So, what to do?

Letting your Ex consume your thoughts effectively stops you from moving your own life forward. Sometimes it's easier to fall back into a comfortable, if not painful, groove of ruminating on your Ex to avoid the scary prospect of moving on.

It's time to be honest with yourself in answering some important questions:

Do I want to heal and move on?

Am I willing to do the work to move past my anger and eventually to acceptance?
You may feel that letting go of your anger somehow lets your Ex off the hook. But, moving on doesn't mean what he did was OK with you. It means that you are no longer willing to live a life focused on him and the past. Your opportunity is to kick your Ex out of your head and start putting your focus on what you need to do to process your anger so you can recover, heal and build a new life.

I'm not saying it's going to be easy but it's definitely going to be worth it.

Have a "DearDeb" question? Please fill out this short, two-minute survey and include the question you want me to address. 2-minute survey


Helpful Resources: