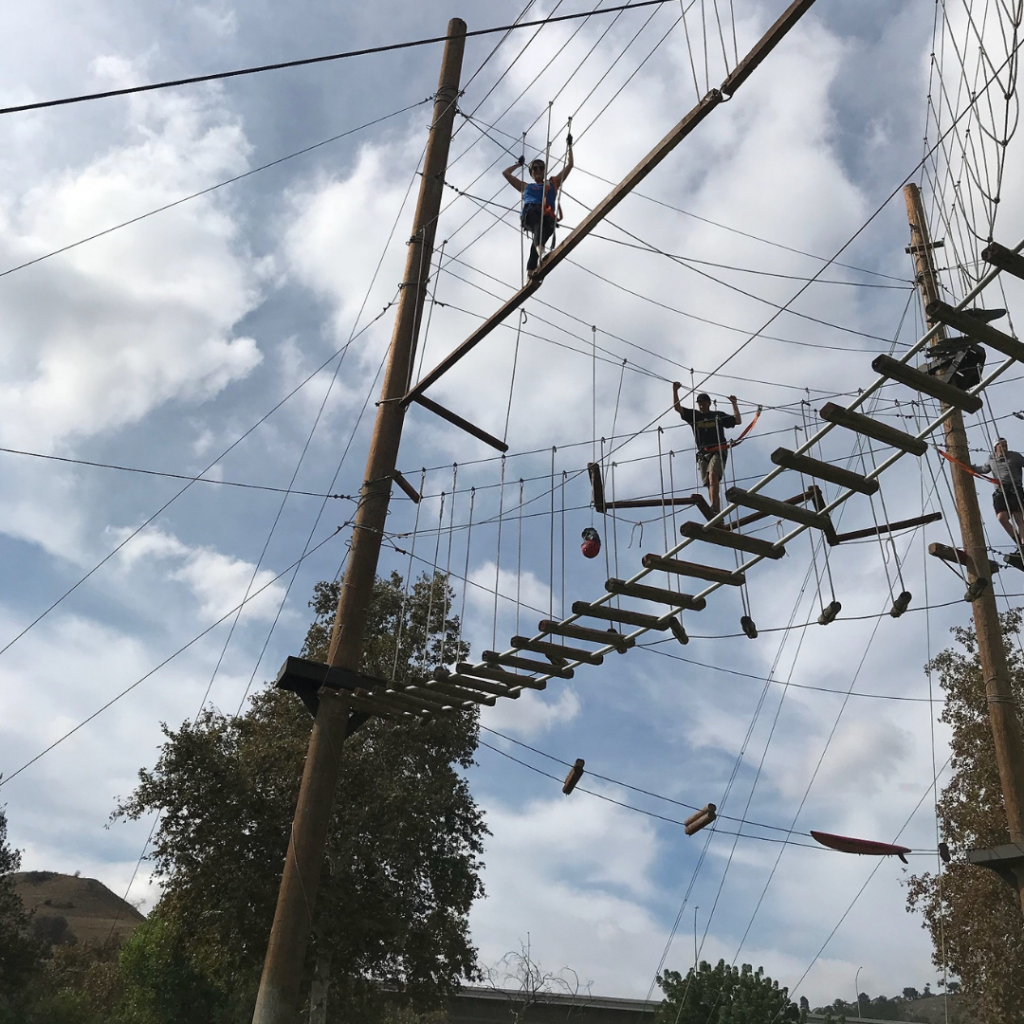 Making Friends with Fear: What I've Learned by Doing Things That Scare the Hell Out of Me
That's me way up there defying death on a ROPES course. Well, defying my fear of death. Despite my knocking knees, I gamely climbed the rope ladder for a few hours of walking on ropes while holding onto, you guessed it, ropes—five stories up.
You see, I've developed a strange affinity. I like to do things that challenge me to face a fear. It all started about five years ago when I had to film a video for my website. I got through it, but I was so nervous and stiff that the director suggested I consider taking an improv class to loosen me up. "No way in hell," was my first visceral reaction. Just the thought of doing that made my skin crawl.
I'm not what you'd call shy. But, I never sought out or particularly appreciated being center stage. Yet, I was working on building a career as an author and a speaker. Hmmmm . . . maybe it was time for me to stretch myself in new ways—oh crap, I had to take an improv class!
Flying Without a Net
Improv required the opposite of my usual uber prepared and buttoned up approach. Although there are basic rules, you wing it, on stage, in front of other people. It was excruciatingly uncomfortable, but I stuck it out week after terrifying week. The graduation consisted of a live show in a theater. It was awful and wonderful. Right after, I signed up for another class and did it all again.
Improv challenged me to let myself be truly terrible at something in front of other people. Something that feels counter intuitive to building confidence on stage but is strangely effective. The more I let go and just showed up, as opposed to overthinking and worrying about how I was being perceived, the better I was and the more fun I had. It turns out that letting down my guard was surprisingly hard to do.
On the heels of my improv experiment, I was excited to continue the rezoning of my comfort zone. I signed up for a stand-up comedy class. Scary in a different way, stand-up comedy required me to put myself out there as a writer and a performer. After weeks of honing my routine in class, I once again faced a live audience. Waiting back stage I sincerely thought I was going to die. I did my show and, although Amy Schumer has nothing to worry about, I was exhalant.
Out of the Frying Pan …
My next challenge? Although I'm not interested in pursuing acting, I read about an acting workshop called Committed Impulse with a wonderful actor named Josh Pais. It scared me even more than Improv so it felt like a good next move. As a warm up on the first night he asked us to freestyle some movement in front of the class. I suddenly felt so raw and vulnerable that I started to cry on stage. By the end of the workshop I was doing my monologue like a diva. I did improv dialogue and movement with a partner. I even created and performed a character for the class.
What changed? For one thing, Josh is an incredible teacher with a method that values and encourages authenticity and vulnerability. For another, after improv and stand up, I was finally ready and able to break through my carefully controlled "Deb" image and just play, regardless of what anybody thought. This was SO MUCH FUN. It was also completely liberating.
This, friends, is my biggest take-away: Each challenge I face is a step on the way to complete freedom from my limiting beliefs about myself and what I'm capable of.
Here are some other things I learned:
Being real, authentic and vulnerable makes me feel alive and is way more fun and interesting than worrying about how I'm coming across or what others are thinking.
Nothing bonds you to others like a shared scary experience.
There is nothing like the exhilaration you feel after you do something that scares the s#%t out of you.
It's not actually possible to die of embarrassment.
Go forth and get uncomfortable!
What challenge is calling you? What fear, if faced, would free you to pursue the life you're meant to live? Whether it's writing a book, starting the dating adventure or learning to dance the Tango, it's worth asking and answering these questions for yourself. It's time to get passionate about your possibilities and try something a little bit scary!
Deb Purdy, is a transformation coach, speaker, workshop leader and author of
Something Gained: 7 Shifts to Be Stronger, Smarter and Happier After Divorce.
Visit www.DebPurdy.com for more information.
Join the conversation on social media:
Instagram: @lovedebpurdy
Twitter: @lovedebpurdy
Facebook: debpurdyofficial