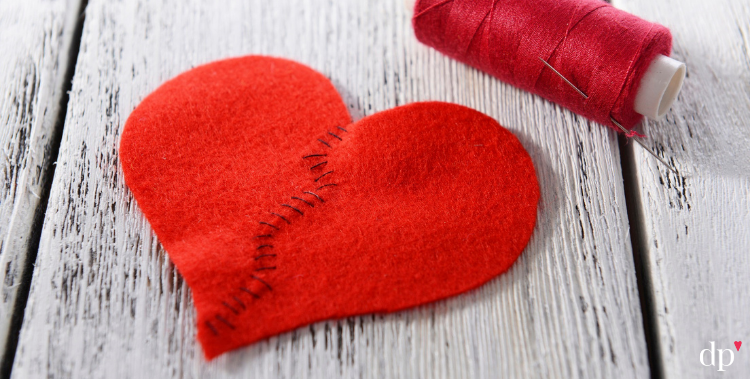 How long does it take to get over a decades-long marriage?
This is a question I get frequently, and it's understandable. When you've been married most or all of your adult life, the question of how long it's going to take to get over it is top of mind. After being married for years, it's natural to strongly identify yourself in the context of being a "wife" or "husband." Aside from getting over the divorce, you're discovering who you are on your own—a question you may not have asked yourself for 20, 30, 40 years, or more.
Although divorce recovery is a process that takes as long as it takes, there are several things that will keep it moving or slow it down. Here are some things to keep in mind:
Steer Clear of Formulas
We humans love to have things quantified; it makes us feel safe when we know what to expect. There are commonly quoted equations for recovery, such as X number of months for every Y years married. Not only are these not truly helpful or even accurate, but they can have a chilling effect on someone divorcing after decades of marriage.
Although time plays a role, it's not the most critical factor in recovery. 
The single most important factor in determining how long it takes to recover is your decision to do what it takes to recover. Following that, the actions you take to support yourself and how much you actively work on your recovery determine the length of your recovery.
Expect Twists and Turns
Healing from divorce is not a straight line. Sadness or anger can be triggered months or even years later with new milestones like the holidays, the day the divorce is final or your Ex getting remarried. Pain is information — it's your heart's way of telling you that something is ready to be acknowledged, healed and released. If you've been working on your recovery, you're more likely to bounce back quicker. Just remember everyone is at their own pace, and setbacks are a normal part of recovery.
Be Where You're At
This may not be what you would have chosen but here you are. You're in pain and you want to know how soon you will be out of pain. That's normal. We're wired to resist being emotionally uncomfortable but resistance — of your feelings or your situation — stalls your recovery. Accepting your reality and allowing yourself to face and walk through your pain reduces your suffering.
Show Up for Yourself
The length and completeness of your recovery depend almost entirely on the actions you're willing to take on your own behalf. Knowing this, you can decide to invest in yourself and do what it takes to get through it and get over it. That means you'll:
Take care of yourself physically, mentally and emotionally

Gather a support tribe that includes good friends and family who will be there for you

Decide you're going to use your divorce experience to learn about yourself and grow

Actively support yourself and your recovery with a combination of therapy, coaching, books, courses and support groups

Give yourself your own love and compassion

Avoid numbing yourself with drugs, alcohol, shopping, or jumping into a new relationship too soon




While you can't and shouldn't bypass the recovery process, your determination and proactive response will make the most significant impact on how long it takes.

With Love,
Deb
See Coping with the Pain of Divorce for more tips on how to support yourself.

Helpful Resources:

Join the conversation on social media: