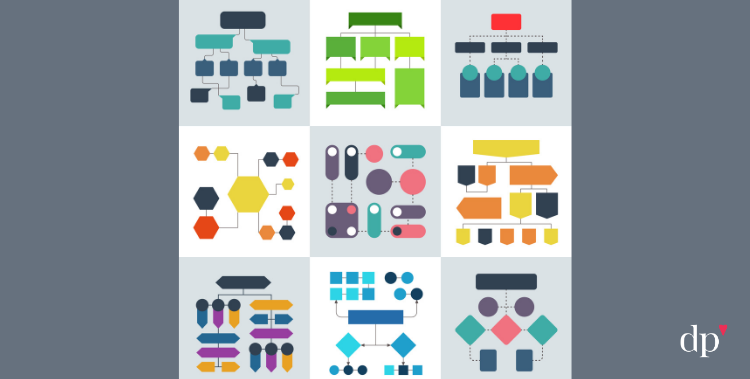 Step-by-Step: Divorce Process Flow Chart
From the moment one spouse makes a decision to leave, both people start on a transition that follows predictable stages. Regardless of who initiated the divorce, many people experience a version of the process captured on the Divorce Process Flow Chart. I created the chart to assist those going through divorce to not only see where they are now, but where they're going.
Divorce Process Flow Chart (click on image to enlarge)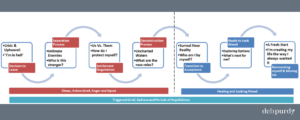 Left Side: Dismantling Phase
Regardless of who initiated the divorce, you're dismantling the marriage. Your spouse goes from a partner to an intimate stranger—someone you know, but don't know. Separating and dividing up a life once shared—time with kids, money, stuff, friends—is frequently very chaotic and upsetting.
Right Side: Rebuilding Phase
At some point, you begin to cross the line to rebuilding and your focus on your past gives way to your new beginning. You notice that, although you still have periods of grief, anger and sadness, you are more actively focused on what's next than what was.
As indicated by the bar that transverses both sides, grief and sadness are triggered throughout the process—and you can feel, at times, both hopeless and hopeful on either side of the line.
Overlap
To make it even more confusing, the process is not neat and orderly—it doesn't always happen in a straight line. One of my clients, Carrie, was in a long, protracted battle with her Ex over the division of assets. The dismantling was still in process but she was already living on her own, setting new goals and working with a therapist to help reinvent her life. Although she frequently struggled with anger, regret and sadness throughout the process, she kept putting one foot in front of the other. One day, she woke up to the realization that the worst was behind her.
How Long Does it Take?
The dismantling process can take anywhere from 6 months to several years if parties can't agree. The rebuilding process can take one year, five years or never be completely complete. If you've rebuilt your life but still feel angry, hurt or bitter over your divorce, you haven't totally healed and moved on.
How do you know if you're stuck? There are common mistakes people make that keep them from truly and completely moving on:
Common Mistake #1: Is Your Divorce Story Holding You Back?
Common Mistake #2: Getting Stuck in the Victim Loop
Deb Purdy, is a transformation coach, speaker, workshop leader and author of
Something Gained: 7 Shifts to Be Stronger, Smarter and Happier After Divorce.
Visit www.DebPurdy.com for more information.
Join the conversation on social media:
Instagram: @lovedebpurdy
Twitter: @lovedebpurdy
Facebook: debpurdyofficial