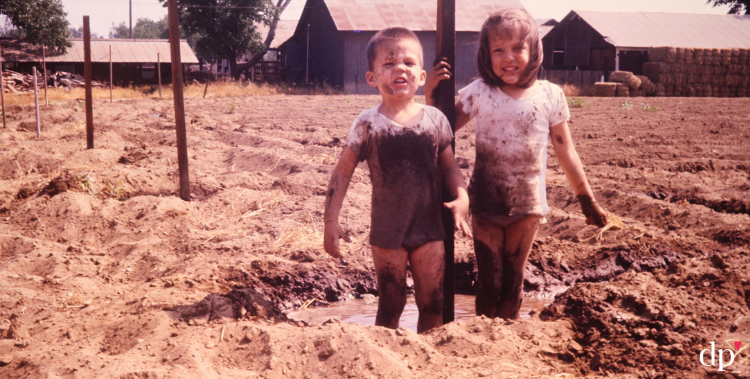 Are you serious about FUN? If not, you should be. According to the National Institute of Play (really!): "Play is the gateway to vitality. By its nature, it is uniquely and intrinsically rewarding. It generates optimism, seeks out novelty, makes perseverance fun, leads to mastery, gives the immune system a bounce, fosters empathy, and promotes a sense of belonging and community."
Plus, playing is fun and fun feels good! Like when I and my brother swam through the mud at my grandparent's farm (above). My idea of fun is a little less messy these days but I still try to do things that make me as happy as I was that day.
Although regular play and fun are crucial to overall well-being for everyone including grown-ups, they are never more important than when you are going through a life challenge, such as divorce. You may be out of touch with playing, having fun, and doing things just for the joy of it. Well, not to worry! I've got you.
Joy to Your World
All you need to do to get the party started is to make a Joy List. That already sounds fun, right? This is a running list of activities that bring you joy, make you laugh, relax you or are simply fun to do. It could be anything from taking a bubble bath or hosting a family game night to lunch with friends or horseback riding lessons. The only rule is that it must sound fun to you. Once you put your focus on joy, your list will continue to grow as more and more fun ideas occur to you.
Each week, choose something on the list, put it on your calendar and do it! Here are a few questions to get the ball rolling:
What have I always wanted to do but have never done?
What do I love to do but don't take time for?
What makes me feel totally pampered and decadent?
What inspires me and brings me inner peace?
What makes me laugh?
What makes my body feel good?
What topics/subjects capture my attention and spark my imagination?
What did I love to do when I was 5, 10, 12, 16, 25?
Who do I enjoy being with?
Where have I always wanted to go?
What's on my bucket list?
Start now by brainstorming the first ten things that come to mind. To help you get started, I've attached a Sample Joy List and Joy List Template below. Now, stop sitting in front of your computer and go out and play!
Deb Purdy, is a transformation coach, speaker, workshop leader and author of
Something Gained: 7 Shifts to Be Stronger, Smarter & Happier After Divorce.
Visit www.DebPurdy.com for more information.
Join the conversation on social media:
Instagram: @lovedebpurdy
Twitter: @lovedebpurdy
Facebook: Thrive After Divorce Facebook Group