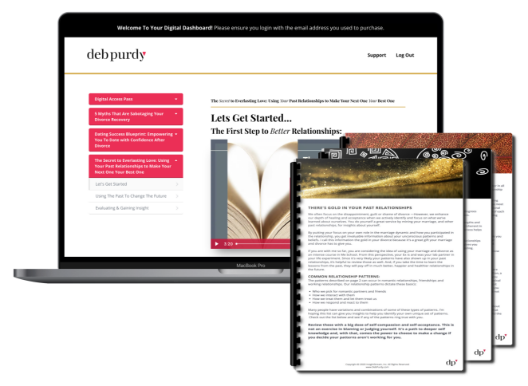 If you want your next relationship to be your everlasting
love story, you increase your odds exponentially by
heeding the lessons of your past.
Too often, after divorce, we try to make ourselves feel better by telling our stories on repeat, with our Ex in a starring role as the villain. We don't spend much time examining our own role in the breakdown of our relationships. Why is this important? Because . . . we take our stories with us and, when we pick another partner, we often end up with same problems, again.
The truth is, if you understand your own history, you'll stop repeating past mistakes. I created The Secret to Everlasting Love: Using Your Past Relationships to Make Your Next One Your Best One, to help you use the past to shape a better future.
You'll learn about the most common relationship patterns and begin to identify your own. And, you'll answer key questions about past relationships that will give you invaluable insights you can use to create the kind of relationship you've always wanted. You'll get short videos along with fun, and easy-to-do worksheets that put you on the path to creating your everlasting love story.
Click below to get instant access and set yourself up for relationship success!
To eliminate any worry, I'm offering a
30-day money back guarantee.
If for any reason you aren't satisfied, just let me know and I'll give you your money back.