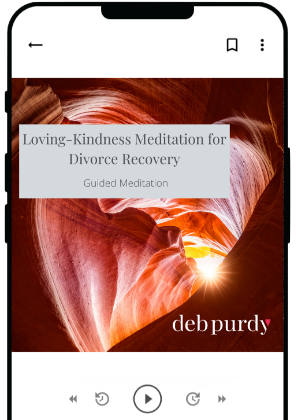 Whether or not your Ex is or was a challenging person,
aiming your good thoughts toward them helps heal you.
But, that's not always easy! I created this Loving-Kindness Divorce Recovery Meditation to give you a quick and easy process for sending good vibes toward yourself, your loved ones and even your Ex.
While it may seem counter-intuitive, your loving energy toward your Ex is very beneficial to you. Use this meditation any time you need and want to feel peaceful inside yourself, regardless of what your Ex says or does.
Length: 9 minutes To eliminate any worry, I'm offering a
30-day money back guarantee.
If for any reason you aren't satisfied, just let me know and I'll give you your money back.