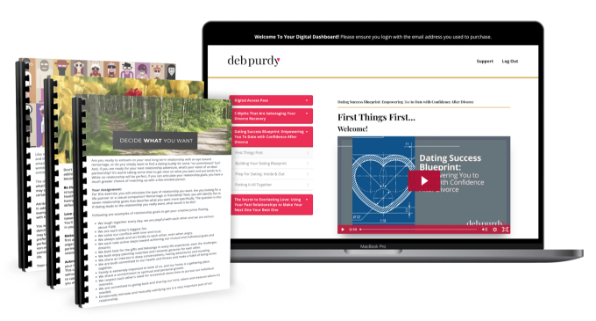 A pleasant and successful dating experience requires
you to approach dating in a much more thoughtful way
than you may have in the past.
Rather than relying on chemistry alone, which is a terrible predictor for relationship success, you also need to look for true compatibility. If you've been on any of the dating sites, you know you're presented with an overwhelming number of singles to choose from. How do you know if someone's a good fit?
To get what you want, you must first define what that is. That's why I created the Dating Success Blueprint: Empowering You to Date with Confidence After Divorce where I give you the process for dating with intention.
This easy-to-do blueprint walks you through a thoughtful examination of what's really important to you. This will help you avoid wasting time on the incompatible and instead, more clearly recognize the ones with potential to be great partners.
Inside you'll determine your dating readiness level, identify your relationship requirements and prepare yourself, inside and out, for your dating adventure. You'll get short videos, fun and easy worksheets that prepare you for dating with confidence and success.
Bonus
As a bonus, the course includes my Path to Love Guided Meditation ($19.97 when purchased separately on this site). This calming meditation supports you in making peace with your past and putting yourself on the path to finding new love.
Click below to get instant access and get ready to get out there!
To eliminate any worry, I'm offering a
30-day money back guarantee.
If for any reason you aren't satisfied, just let me know and I'll give you your money back.