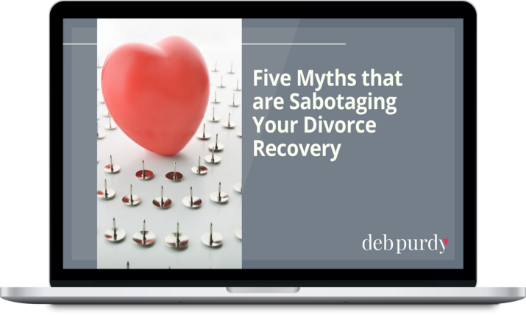 This course reveals 5 Common Beliefs about
divorce that are completely wrong!
We've all bought into widely held ideas about divorce that simply aren't true. Sadly, they not only make divorce recovery harder that it needs to be, they also slow it down. It doesn't have to be this way!
We can choose to see these myths as what they are—outdated opinions and false beliefs disguised as "The Truth." Unfortunately, they go unchallenged and unquestioned by most people. This course helps you revise your divorce belief system into something that's more healing and supportive.
Learning the truth will ease your mind about some of your biggest divorce fears and support your healing and recovery.
This course includes short videos along with fun, and easy-to-do worksheets.
Click below to get instant access and put your mind at ease.
Bonus
As a bonus, the course includes my Loving-Kindness for Divorce Recovery Guided Meditation ($19.97 when purchased separately on this site). This soothing meditation supports you in maintaining your inner peace throughout the divorce process and beyond.
To eliminate any worry, I'm offering a
30-day money back guarantee.
If for any reason you aren't satisfied, just let me know and I'll give you your money back.